At COMAND Solutions, we pride ourselves in working with our clients side-by-side through the process of building a strong web presence. Our website solutions are designed to enhance your company's image and developed for efficiency and longevity.
Project the perfect image with an innovative and on-trend website design.
Develop a strong content strategy and intuitive organization (information architecture).
Increase engagement with interactive features including polls & quizzes, comments, maps, etc.
Stay connected with integrated social media components.
Drive business with effective calls-to-action and robust web forms.
Monitor your site with analytics. Use real information to drive future business decisions.
Increase visibility with robust SEO capabilities.
Take the first step towards a comprehensive content management system. Content management is at the core of our solutions and can be tailored for your business needs.
Expand your reach with a mobile web solution. COMAND Solutions can help you tackle the dynamic mobile web with several solutions to suit a range of budgets.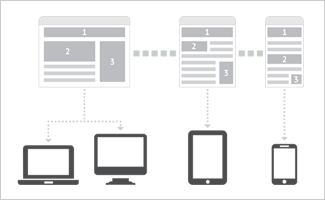 Responsive Design
Responsive web design responds to the user's behavior and environment based on screen size, platform and orientation. As the user switches from their laptop or desktop to a tablet or smartphone, the website automatically accommodates for changes in resolution, image size and scripting abilities. With a fully-responsive web design, custom solutions are created for a wide range of users, on a wide range of devices.

Site Migration
If you have an existing website and are looking for a way to manage content updates, COMAND Solutions can help. We can take your current design and/or content and reconstruct it around the webCOMAND CMS resulting in an easy to manage website solution.
» Find out if a website migration is the right solution for you.

Website Marketing and SEO
You have a website, but how do you attract visitors?
Search Engine Optimization (SEO) allows you to climb up the rankings of search engines like Google.

Managed Hosting
COMAND Solutions provides comprehensive hosting solutions to meet your exact needs. We pride ourselves in providing a fully-managed hosting environment, complete with firewalls, user authentication, and encryption, that's always online and scales to any size and volume.

Integration
COMAND Solutions can build website solutions to work with your existing infrastructure or sync data from your current systems. Our developers have a wide-range of experience developing for popular open-source and enterprise applications, including SQL databases, Microsoft Sharepoint, Wordpress, Drupal, and Red Dot. Don't see the name of your system listed here? Don't worry, we can work with what you have to create the perfect solution.
» Learn more about building a website solution that works with your current system.