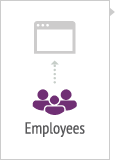 Team Portals
A hosted intranet portal provides a place for your employees to securely access company documents, information and data from any web browser. COMAND Solutions organizes your existing operations while allowing you to manage your website and intranet portal from a single interface.
Learn more about the features of a web portal system from COMAND Solutions.
Communication
Provide an up-to-date company directory for employees and customers.
Manage events and important dates.
Stay organized with task management and alerts.
Increase efficiency with customized workflow management.
Encourage collaboration with a blog, bulletin board or discussion forum.
Document Management
Centrally manage documents, files and other content
Version control
Share files and documents through a secure network connection
Support for multiple file types (docs, pdfs, images, videos, html and more)
Find the files you need with a quick and easy keyword search.
Reporting
Monitor valuable data and metrics with reports tailored to your business.
Generate department, customer, or vendor-specific reports.
Review account statements and invoices.
Control Access & Content Delivery
Assign permissions and control access to an individual user or entire user group.
Grant authorization to specific suppliers, customers or companies.
Establish secure sign-in and verification processes.
Assign editorial approval and distribution rights to individual users.
Limit access to confidential documents, pricing, policies, and functionality
Security & Reliability
Benefit from being a COMAND Solutions customer with our top-of-the-line hosting setup. Rest assured that your documents and data are safe and secure. Your company information remains safe and secure and your customers can trust that their privacy is protected.